Our team provides:
Amateur Radio Training and Assessment
Marine Radio Training and Assessment
Skills training in Radio and Electronics related activities for Leaders
EPIRB and PLB training
Radio and communications skills training
Basic electronic kit building skills training
Amateur Radio
Amateur radio training is an ideal activity for technically minded (teen-aged) Scouts, Venturers, Rovers and Leaders. The Foundation AOCP(F) license level is a good place to start. Parents are also welcome to attend, amateur radio is a hobby that can be enjoyed across the ages.
Scout Radio Victoria provides targeted training for older Scouts, Venturers, Rovers and Leaders.  We welcome family members to attend our training as well. This is a wonderful hobby activity that can involve the whole family, both with in and beyond scouting. 
Amateur Radio Assessments are again available. We have now assessors approved with AMC.
Express your Interest in completing an Amateur Radio Course here
Looking to buy the Your Entry into Amateur Radio book?
This is an excellent resource book for leaders who would like to know a little more about amateur radio so they may brief their Scouts prior to JOTA.
If you wish to purchase the WIA Foundation Training book "Your Entry into Amateur Radio"  from Scout Radio Victoria please use the contact us page on this website.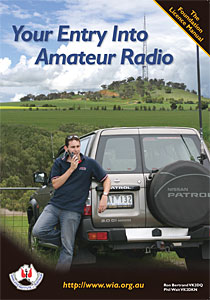 The book should be regarded as essential reading for all people intending to undertake the Amateur Operators Certificate of Proficiency (Foundation) assessment
On Line Amateur Radio Tutorials
Still not sure that you wish to purchase the book? Ron VK2DQ and his team from the Radio Electronics School are old friends of scouting. The operators of the Radio and Electronics School have now placed a number of Foundation License tutorials on the RES web page. We commend the entire team from the RES for making these available to the Scouts. The Tutorials may be found at res.net.au.
If you do find these tutorials valuable, and you wish to extend your studies beyond the Foundation License, contact the RES directly to enroll in their correspondence courses or use the contact us tab and ask for more general information.
The SRESU supports the RES team when they make the good point that the tutorial is not intended to replace Your Entry into Amateur Radio (the foundation license manual).
The SRESU training team feel that just doing the tutorials will not provide all the hands on skills that could be obtained when attending a training course run by your local radio club (including the SRESU). In saying the above, we see these tutorials as very useful for people who may find reading the foundation manual difficult for a number of reasons. These tutorials may also be useful for remote scouts who would like to attend a course but their location makes this a challenge. Once the content is mastered, an assessment may be arranged. Please contact the SRESU training officer for more details. – Philip Adams – VK3JNI