We want you in the log this January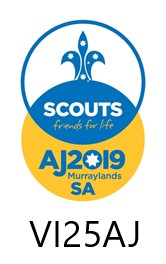 Between 4-14 January 2019, 8400 Scouts from every Australian state plus representatives from 18 nations will converge in Tailem Bend in South Australia to participate in the 25th Australian Scout Jamboree – AJ2019.
One of the 150 activities on offer to the Scouts will be a chance to participate in Amateur Radio. To facilitate this activity, we will establish a showcase station under the special event call sign VI25AJ and a Direction Finding course. We are expecting 2000 Scouts to experience amateur radio over the 10 day period.
We'd love to see as many amateur radio enthusiasts giving us a call during the Jamboree period to help give the kids an amazing experience – and perhaps take up the hobby on their return home.
We will be active on the HF bands both SSB and digital modes, Satellites, IRLP and Echolink. Full details such as operating schedules, frequencies will be available via our VI25AJ QRZ.COM page.
Once formal activities have finished for the day the showcase station will be available for licensed amateurs to use and if you happen to be attending AJ2019 bring your HT, we will have an IRLP linked repeater onsite.
For further information please contact:
Brett Nicholas – National Coordinator JOTA/JOTI
AJ2019 Activity Manager – Radio Scouting
Scouts Australia